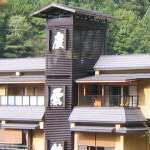 The First World Hotel in what many describe as the Las Vegas of Malaysia is the largest hotel in the world according to Guinness World Records.
It has 6,118 rooms, and was completed in 2005 and now stands as a multi-colored, giant lego-brick-like structure an hour from Kuala Lumpur. With a tropical jungle in the hotel's entrance as well as 10 restaurants, this is a hotel that doesn't do small.
The picture to the right shows world's oldest hotel, Nishiyama Onsen Keiunkan in Yamanashi, Japan. It was built year 705 after Christ.
Read more: Guinness World Records 2012: Travel records
CNN listar 22 galna världsrekord som har att göra med ämnet resor. Allt från största samlingen av spypåsar till högst belägna hotellet finns med bland rekorden. Det kanske galnaste rekordet innehas av en kvinna som lyckats hoppa in en resväska på drygt 5 sekunder och dessutom stänga väskan inifrån. Det mest prestigefyllda rekordet måste ändå vara världens äldsta hotell, Nishiyama Onsen Keiunkan i Yamanashi, Japan. Hotellet har drivits sedan år 705 efter Kristus.
Stig Björne
Foto: hotelwithheart.com
SvD: Detta är världens bästa hotell
DN: Övernatta i krisens spår (priset på hotell sjönk kraftigt i Japan, Grekland, Spanien, Portugal)