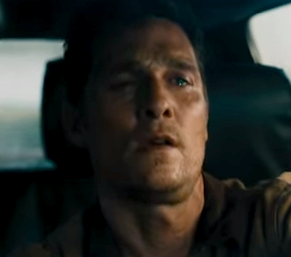 En grupp av utforskare utnyttjar ett nyupptäckt maskhål i time-space för att passera och gå bortom människans begränsningar inom rymdfart. Syftet är att rädda världen om man utläser det ur trailern samt att nå ett annat solsystem för första gången.
Informationen är knapphändig om denna film. Det står inte mycket på varken Apple trailers eller IMDB.
Premiär: november 2014
Medverkande skådespelare: Matthew McConaughey, Anne Hathaway, Casey Affleck, Michael Caine.
Regi: Christopher Nolan känd för filmerna: Man of Steel, The Dark Knight Rises, Inception, The Prestige, Memento.
Christopher Nolan is best known for his nonlinear story-telling. Nolan was born on July 30, 1970 in London, England. Over the course of 15 years of film-making, Nolan has gone from low-budget independent films to working on some of the biggest blockbusters ever made.
Warnerbros.com/interstellar, IMDB