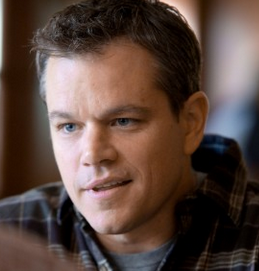 "I'm not a bad guy" säger Steve Butler spelad av Matt Damon i filmen "Promised Land" regisserad av Gus Van Sant. Steve Butler är en slags företagspredator, men som också tror starkt på sitt företags affärside.
Han anser att det lilla samhället som är objekt för hans intresse bäst stöds med jobben han erbjuder i sin industri. Biobesökarna kommer sannolikt att både repelleras och attraheras av denna karaktär.
Filmen handlar i stor utsträckning om en borrteknik för naturgas som kallas "fracking" som både skapat en ekonomisk boom och samtidigt gett huvudvärk för de som vill skydda miljön.
"With the town having been hit hard by the economic decline of recent years, the two outsiders see the local citizens as likely to accept their company's offer, for drilling rights to their properties, as much-needed relief. Promised Land explores America at the crossroads where big business and the strength of small-town community converge."
Damon skrev manuset tillsammans med John Krasinski.
Premiär: 28 december 2012
Genre: DramaOfficial
Site: www.promisedlandthefilm.com
Director: Gus Van Sant
Cast: Matt Damon, John Krasinski, Frances McDormand, Rosemarie DeWitt
Stig Björne