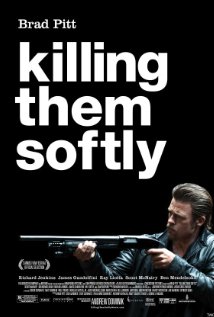 Killing them Softly är en amerikansk film baserad på George Higgins novel från 1974 med titeln "Cogan's Trade". Huvudkaraktären Jackie Cogan spelad av Brad Pitt undersöker en stöt som sker under ett pokerspel beskyddat av gangsters, en stöt som får den lokala gangsterekonomin att kollapsa.
Peter Bradshaw of The Guardian gave the film 5 stars saying the film is a "compelling comment on economic bloodletting in the real world". Den Of Geek called the film "another great achievement from an astoundingly talented director and one of our last remaining true movie stars" and gave it 4 stars. / Wikipedia
Regi: Andrew Dominik
Manus: Andrew Dominik (screenplay), George V. Higgins (novel)
Skådisar: Brad Pitt, Ray Liotta and Richard Jenkins
Premiär: November 30, 2012 i USA.
Stig Björne