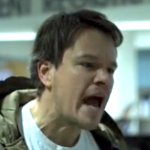 Steven Soderberghs film är fylld av filmstjärnor som: Matt Damon, Laurence Fishburne, Jude Law, Gwyneth Paltrow och Kate Winslet. Och filmen blir riktigt bra enligt DN:s recensent och ger fyra poäng av fem. SvD ger fem av sex möjliga poäng.
"Det finns något tilldragande i dessa kontrollerade bilder. Samtidigt offras något för den polerade ytan. Det är mycket död i "Contagion", men den blir i princip aldrig smärtsam att uppleva. /DN"
"Filmen rör sig snabbt och smidigt över världen och mellan olika nivåer, från kontinent till kontinent, från kommandocentralens ohyggliga helhetspanorama till enskilda drabbades enskilda helvete". /SvD
Synopsis: Contagion follows the rapid progress of a lethal and airborne virus killing within hours or days. As the epidemic spreads the medical community races to find a cure and control the panic that spreads even faster than the virus while ordinary people struggle to survive in a society falling apart.
Stig Björne