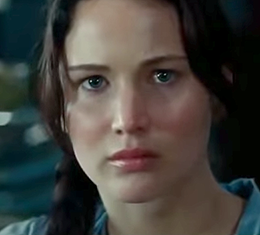 The Hunger Games spinner iväg som ett nytt Matrix-fenomen ute på världens biografer och sätter eld på biotittarna. I den kommande filmen "Hunger Games: Mockingjay – Part 1" återfinner vi Katniss Everdeen som vanligt spelad av Jennifer Lawrence i District 13 någon tid efter att hennes insatser för rättvisa och frihet splittrat maktelitens spel, The Hunger Games.
Under ledning av president Coin (Julianne Moore) kämpar Katniss vidare för att rädda Peeta (Josh Hutcherson) och en hel nation inspirerad av hennes mod.
The Hunger Games: Mockingjay – Part 1 regisseras av Francis Lawrence och historien baseras på ett manus av Danny Strong och Peter Craig.
Filmerna bygger på en trilogi skriven av  Suzanne Collin och hennes böcker om Katniss hars tryckts i över 65 millioner kopior, bara i USA.
Premiär: 21 november 2014
Regi: Francis Lawrence
Manus: Based on the novel by Suzanne Collins, Screenplay by Danny Strong and Peter Craig
Skådisar: Jennifer Lawrence, Josh Hutcherson, Liam Hemsworth, Woody Harrelson, Donald Sutherland, Julianne Moore, Philip Seymour Hoffman, Jeffrey Wright, Sam Claflin, Jena Malone