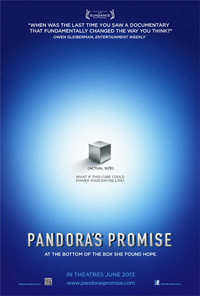 Impact Partners presenterar "Pandora's Promise" en dokumentärfilm producerad av den Academy Award-nominerade regissören Robert Stone. Atombomben och härdsmältor som den i Fukushima, Three Mile Island och Tjernobyl har likställt atomenergi med globala katastrofer, men tänk om vi har haft fel. 
"Pandora's Promise asks whether the one technology we fear most could save our planet from a climate catastrophe, while providing the energy needed to lift billions of people in the developing world out of poverty."
Det här är en kontroversiell film som där Robert Stone låter energiexperter och miljöaktivister berätta sina personliga historier om att ha konverterat från att vara antikärnkrafttroende till att tro på kärnkraft mer än någonsin.
Premiär: 12 juni 2013
Genre: Documentary
Hemsida: Pandoraspromise.com
Regi: Robert Stone
Medverkande: Stewart Brand, Richard Rhodes, Gwyneth Cravens, Mark Lynas, Michael Shellenberger.