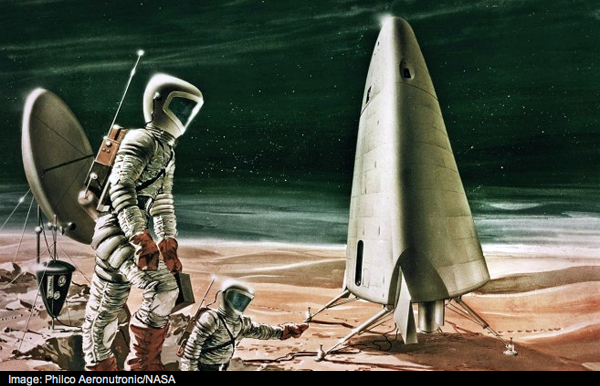 Piloted spaceflight planning typically emphasizes the transportation to the target site but astronaut activities on the surface of a target world normally receive little attention. The reasons are the many challenges inherent in moving humans between worlds, according to  a Wired article by David S. F. Portree.
But as early as 1965, NASA's Marshall Space Flight Center turned its attention to the scientific tasks astronaut-scientists might perform on Mars.
Paul Swan worked with Cornell astronomer Carl Sagan in 1964 to identify landing sites for automated Voyager Mars landers. In a summary paper presented at the March 1966 Stepping Stones to Mars meeting, Swan and three of his colleagues explained that an "understanding of the possibilities and limitations of [human astronauts on Mars] should serve both to keep our eyes on a far horizon, and to guide our footsteps on the early stepping stones which must be negotiated."
The first successful robotic Mars probe a 261-kilogram Mariner IV had flown past the planet on July 15, 1965.
Stig Björne